Valkommen (Welcome)! We would like to extend a very warm welcome to you as a visitor to our website. We are glad you found us! Our store has been shipping fine Swedish and other Scandinavian foods to customers all over the country for more than a decade.
Located in "Little Sweden, USA" (Lindsborg, Kansas), we know exactly what it takes to help provide a perfect "taste of Sweden", whether you are looking to serve a full traditional meal or simply satisfy a craving for your favorite Scandinavian treat.
Please let us know if we can be of assistance. If you ever find yourself in Lindsborg please stop by our store (White's Foodliner is our brick and mortar) and say "Hej!" and check out our Swedish section!  
White's Foodliner History
The roots of the White's Foodliner business history most certainly began when, as a young boy, Joe Patrick White, would visit his grandparents in southeast Kansas, traveling from his home in Dodge City, KS. He would spend time with his grandparents, Patrick Byrd (PB) and Minnie White.  PB was the owner and operator of old-style grocery "general stores" in several towns of southeast Kansas.  Of course, Joe idolized his grandfather, and we are sure this experience sowed the seeds of Joe's subsequent journey. As Joe grew up, he had several jobs, but it seems he was always drawn back to the grocery business.  After serving in the US Navy during WWII, he returned to Dodge City and met a hard-working young woman named Frances Ewy.  Frances had been born and raised on the family farm in Hodgemen County, outside of Jetmore, KS.   After Joe and Frances were married in 1950 and Joe finished college (and, of course, worked in a grocery store) in Denver, they decided to purchase a grocery store.  A store became available in Coldwater, KS, and in May of 1953 they moved with their young son Douglas Patrick (Pat) to begin a new challenge in their life. Through the years, the business has grown and evolved with acquisitions and contractions.  The constant in our business has been a dedication to and concern for our customers, our communities, and the valuable associates who share our passion for the business and our constituents.   Today, the second generation is at the helm of our organization with the third generation 'in the wings. "The White family is proud of our heritage and the privilege we have had to be able to serve our customers, communities, associates' families, and friends. Currently the group owns and operates stores in Kingman, Medicine Lodge, Phillipsburg, St. John, Lindsborg, Lyons, and Scott City, Kansas.
Homemade Swedish Baked Goods
Our breads and pastries are made right here in our Lindsborg, KS store by our fabulous bakers! We bake them fresh, freeze them for quality, and then ship them on their way to your front door. You can find these items under our "Homemade" category.
Made from Scratch
Not only are our breads and pastries homemade, but we also make our Swedish Potato Sausage and Swedish Meatballs from scratch as well. See our recipes page for inspiration and directions on preparing these popular and favorite Swedish meals!
WATCH
How it's Made - Swedish Potato Sausage!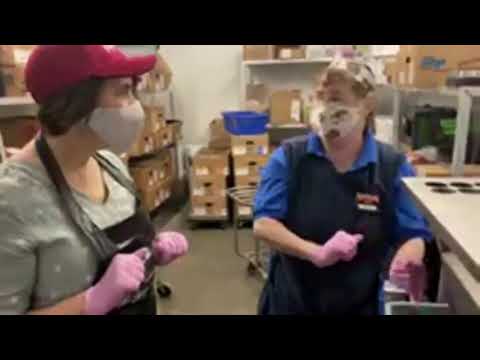 Watch
Swedish Foods at White's Foodliner