Looking for inspiration for your next Smorgasbord? Not quite sure how to cook the potato sausage you ordered? Here you will find a variety of recipes we have collected over the years for some of the most popular Swedish and Scandinavian dishes. 
*Please note many of these recipes originate from product manufacturers and the origin of others is not known. These are not exact recipes for our homemade goods.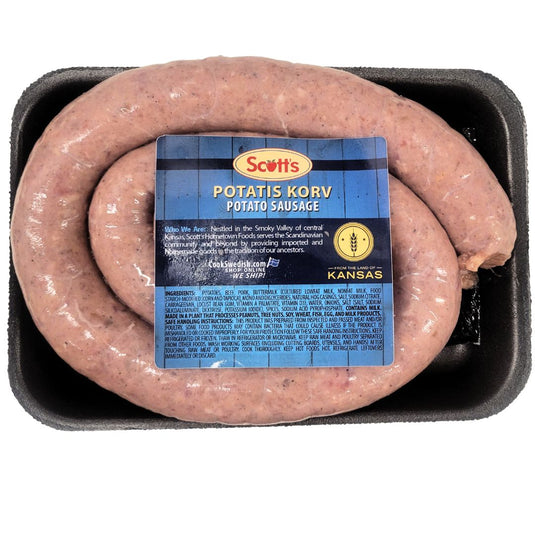 Swedish Homemade Potato Sausage
TO BAKE: Immediately after thawing, lay out potato sausage on a baking dish prepared with
a sheet of parchment or non-stick spray. Bake for 40 minutes at 350˚. Let rest for
10 minutes or so before cutting into segments.

TO BOIL: Put frozen potato sausage in a pot and cover with water. Bring to a low boil and
cook uncovered for approximately 30 minutes poking the casing occasionally with
a fork to prevent the sausage from bursting. Can be fried or baked for a few
minutes for brown, crispy casing. Let rest for 10 minutes or so before cutting
segments.
Swedish Homemade Meatballs
Preheat oven to 350⁰.

No Gravy: Place meatballs on a cookie sheet. If frozen bake for 30 minutes. If thawed bake for
20 minutes.

For Gravy: To create drippings for gravy, place meatballs in a 9x13" cake pan add ½ cup water.
If frozen bake for 30 minutes. If thawed bake for 20 minutes.

Gravy: Use the drippings from the meatballs or beef base / bouillon cubes to make a cream
based gravy.
Dry Lutefisk
TO SOAK:  
1. Put fish in a large enough container that will allow you to cover it with tap water. Soak
the dry fish for three days. Set someplace cool, like the garage. After three days, drain the water off.   
2. Mix, 1 heaping tablespoon baking soda or wood ash and 1 ½ cups lime per gallon of tap water, mix, pour over the fish. Soak the fish for 3‐4 days in this mixture. Check the fish daily to see if it is soft by pressing down on it with a finger. When it is soft and leaves a finger impression or on the fourth day, drain the water.  
3. Cover the fish in fresh water. Change the water every day for 3 days.  At this time you can; 1. Drain the water off and freeze the fish. 2. Drain the water off, bake the fish and either eat it or freeze it. OR 3. Drain the water off, cover the fish with fresh water and keep very cold/near freezing for 3 – 4 more days until you cook it.   Option 3 can be repeated several times to extend the life of the fish until it is baked.  

TO BAKE:  
Traditional Baking ‐ Drain the water off.  Place the lutfisk in a casserole dish and cover with foil. Bake at 350⁰ for 30 minutes. Remove fish from pan and serve immediately with butter or cream sauce.  

Old Fashioned Boiling – Drain the water off the fish or if frozen thaw. Bring 3 quarts of water and 1 ½ Tablespoon salt to a boil, then add fish. Cook 8 – 11 minutes or until fish flakes (internal temperature of 140⁰ ‐ do not overcook). Be careful to remove all the bones. Serve immediately with butter or cream sauce.
Lars Own Swedish Cured Bone-In Ham
Prep Time: 10 minutes
Cook Time: Approx. 20 minutes per pound

Ingredients:
1 9-12 tbs Cured Ham
Glaze:
2 Egg yolks
1 Tbsp Sugar
6 Tbsp Spicy Brown Mustard
6 Tbsp Fine dry breadcrumbs

Directions:
Preheat oven to 350 degrees.
1. Place the ham, rind up, on a roasting pan lined with aluminum foil. Insert a meat thermometer into the thickest part of the ham making sure it does not touch the bone.
2. Place the roasting pan on the top rack of your oven. When the ham reaches 160°F, pull from the oven and remove the rind. At this time turn your oven up to 450°F.
3. Combine ingredients (egg yolks, sugar, Spicy Brown Mustard) in a bowl. With a pastry brush, brush mixture on the top and sides of the ham. Sprinkle the breadcrumbs evenly over the ham.
4. Bake ham in the 450°F oven for approximately 10 minutes or until golden brown.
5. Garnish with kale, prunes and an apple or orange. Cut ham into slices. Serve hot or cold.
Swedish Brown Beans
Ingredients:
2 c. Bruna Bonar (brown beans)
1 ½ t. salt
5 c. water
½ c. Dan Sukker Mörk Sirap (dark baking syrup)
½ c. brown sugar
¼ c. White Vinegar
Directions:
1. Soak beans in water and salt overnight.
2. Boil beans in the salt water until tender.
3. Add syrup, sugar and vinegar and bake at 350⁰ for one hour.
Optional: To thicken beans, dissolve ¼ c. cornstarch in ¼ c. water and stir into beans.
Swedish Limpa Bread
Ingredients:
1 c. butter, softened
4 c. milk
1 ½ packages yeast
1 T. Salt
⅓ c. Dan Sukker Dark Baking Syrup
2 t. anise
1 T. orange peel
2 t. fennel
2 t. caraway
3 ½ c. rye flour
6 – 7 c. white flour
Directions:
Preheat oven to 350⁰. Melt butter. Warm milk. Wisk together all ingredients except flour(s).
Stir in rye flour and 2 cups of white flour. Using the remaining flour make a well on work
surface, scrape dough into the well and knead flour in until dough is smooth. Place in a large
mixing bowl that has been sprayed with a non-stick pan spray, cover with a towel and let rise till double in size. Place dough on work surface and divide into 4 equal parts. Knead/shape into round loaves and place on a sprayed cookie sheet, 2 to a pan. Let rise till double in size. Bake for approximately 40 – 45 minutes. Bread should be nicely brown and firm to the touch. Remove from the oven and brush will melted butter.
Swedish Yellow Pea Soup
Ingredients:
1 bag Lars' Own Yellow Peas
1 yellow onion, finely chopped
3 t. salt
1 T. marjoram or thyme
1 LB pork ribs (optional)

Directions:
Rinse peas and soak overnight in 5 cups of water. Discard water. Pour 2 quarts of water over peas. Cook together with onions, spices and pork on low heat for about 1 ½ hours or until shells of peas split. Serve with a bit of Brown Mustard.